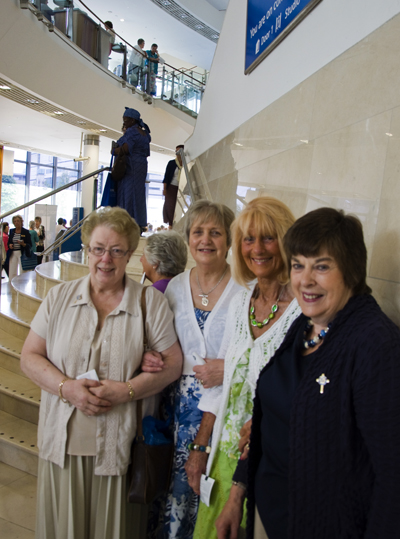 On Saturday 21 June 2014 about 1200 Mothers' Union members from Great Britain and Ireland and from other countries met in the Waterfront Hall in Belfast for their General Meeting. Valerie Ashe (Connor Diocesan President), Joy Silcox (Down & Dromore Diocesan President) and Lynne Tembey (Worldwide President) welcomed the members. Opening Worship was conducted by the MU Ireland Chaplain the Very Revd Raymond Ferguson.
Provincial Presidents from Ireland, Canterbury, York, Scotland and Wales then gave presentations on projects and initiatives within their Provinces and Margaret Jones (Finance & Central Service) gave an update on the Financial position.
The highlight of the morning was MU Chief Executive, Reg Bailey, interviewing the Chaplain to Titanic Quarter, the Revd Chris Bennett, who spoke about his achievements in building communities in this developing area of Belfast. He stressed that buildings and structures were not the first essentials, he had started to bring people together using £5 deck chairs. A vacant shop was obtained to create an "Honesty Box" cafe which is used by residents of the new apartments, students from the Belfast Metropolitan College and local Office Workers. Located beside the restored Nomadic ship, Sunday Services are now being held on board the ship. Chris concluded by conducting the Mid-day Prayers.
After lunch members were entertained by the comedian Andy Kind, before the Worldwide President brought the meeting to a close.
Members had started arriving in Belfast from Thursday, and St John's L'Estrange Hall was used by Connor Trustees to entertain visitors from their Link Diocese, Cashel Ferns & Ossory. Entertainment was provided by St Polycarp's Choir.
On Friday evening St Anne's Cathedral was completely full for a Service of Celebration on the eve of The General Meeting. The Primate of All Ireland, the Most Revd Dr Richard Clarke preached the sermon.
On Sunday morning at our 10am Sung Eucharist in St John's we were joined by eight visitors attending the General Meeting: Joan Dier and Margaret Dowse (Diocese of Cashel Ferns & Ossory), Olive Reilly and Jill (Diocese of Meath & Kildare), Margaret and Harry Jones (Diocese of Salisbury) and Aileen and Martin Gardham (Diocese of Canterbury)