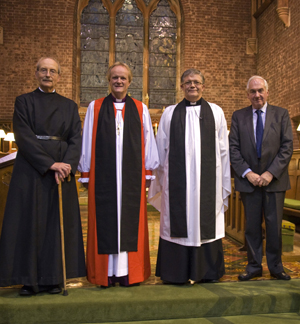 Often today in the Church men are content to stand back and allow the ladies to take the lead. He had noticed at Roman Catholic Masses he attended throughout his diocese the role played by young people serving at the mass, and the role of women assisting, but less male involvement.

Our world is not a happy place with the continuation of "Dissident" activity, the employment situation and the appearance that law and order is foundering, suicide rates rising, higher levels of addiction and general sidelining of Christianity. Our news reports violence, starvation, bombings and murder. The Church is seen to be infighting, tied to the past, and afraid to speak out against deeds carried out in the name of Christianity. Has God failed us - no it is we who have failed him. We cannot expect God to give us freewill but take that away only when we do wrong.

He told a story about an airman in WWII who swam ashore on an island were he was treated well. There was no disease, divorce, poverty or crime. People looked after each other. When he enquired how this was achieved he was told that his ancestors had brought Christianity to the island.

Is our witness too sophisticated, selfish and inward looking? We often doubt the contribution we can play, but if all men did their small part then a lot could be achieved. We are the salt of the earth, so we need to influence our parishes not to stand still. We don't need to do everything ourselves (or leave it to the women) but act to encourage younger men to offer their talents.

After the Service members enjoyed refreshments in the church hall. CIMS Chairman, Bishop Abernethy, who had been unable to be present at the Service because of another engagement, thanked Bishop Rooke for being with us and said he was pleased to see so many members and wives present.






Charles Jury (Malone Branch Chairman)
Bishop Patrick Rooke (CIMS Past Gen Sec),
Revd Robert Jones (Malone Branch President)
and Arthur Macartney (CIMS Hon Lay Secretary)