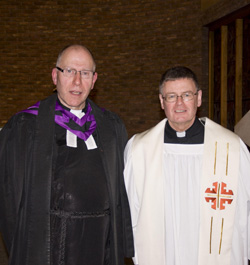 On the Sunday evening the Churches of South Belfast came together for a Service in St Brigid's church with participation by members of each of the churches. A combined choir led the congregation.
In his address

Rev Dr Derek J. McKelvey, Minister of Fisherwick Presbyterian Church, referred to the differences in our theology, our liturgies, our governance, but claimed these were unimportant if we failed to reach out in Christian Fellowship to all in need. We need to work together to

reach out to our sinful world.