Five members of St John's Men's Society joined the CIMS Outing by train to Derry on Saturday 4 June. In all 54 members travelled by train from Great Victoria Street station to be joined in Derrry by a further 5. Members had travelled from all directions - Armagh, Moira, Lisburn, Bangor, Cregagh, Holywood, Carnmoney, Cloughfern and Portstewart.

From the station we made our way on foot or by car to the Derry & Raphoe Diocesan Centre for a welcome cup of tea or coffee kindly organised by the Diocesan Secretary. Bishop Ken Good and Dean William Morton made us welcome before we proceeded to the newly renovated St Columbís Cathedral where final landscaping was being completed before the Service of Thanksgiving and Dedication for the Cathedral to be held on Thursday 9 June. The interior of the Cathedral looked magnificent after the work.

Our Service of Holy Communion was conducted by Bishop Ken Good assisted by Dean Morton and the CIMS Secretary, the Dean of Armagh, and Bishop elect of Tuam, Killala and Achonry, the Very Revd Patrick Rooke. Organ accompaniment for the hymns was provided by the Dean who climbed the spiral staircase to the organ loft at the appropriate times.

After the Service we proceeded to St Augustine's Parish Hall where the Ladies' Guild provided us with soup and sandwiches.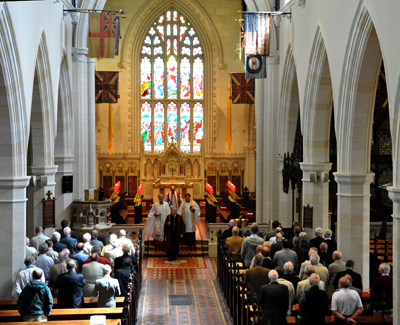 After lunch we were met by Martin McCrossan who took us on a whirlwind tour of the centre of Derry and the Walls. Martin has guided many famous people around the city and provides local and historical information in an entertaining manner.

The tour finished at the Guildhall where we were met by the recently elected Mayor, Maurice Devenney, who told how hopeful he was for the future of the City.

We then crossed the river to Brown's Restaurant for a delicious meal, very efficiently served to us by the staff.

During the meal a presentation was made to our General Secretary, the Very Revd Patrick Rooke, who will be leaving us when he is Consecrated as Bishop. Wilfred Young thanked him for his leadership and wished him well and presented him with a suitably inscribed picture containing a ceramic representation of Armagh's two Cathedrals.

After the meal we boarded the train for our return journey to Belfast.