In September the Mothers' Union General Meeting was held in Glasgow. Among the delegates was a strong representation from the Diocese of Connor.
One Member of the Trustee Board attending the General Meeting was Abigail Tukulu, who has served the MU in Southern Africa as both a Diocesan President and as President for the Province of Southern Africa, which includes Namibia, Angola and Mozambique as well as the Republic of South Africa. Originally trained as a teacher, Abigail now works as a counsellor with young people in her home town of Port Elizabeth. In March this year she was one of the representatives of the MU to the United Nations Commission on the Status of Women, where she also took part in the Seminar run by the U.K. Women's National Commission, giving a presentation on the work done by women of faith to support survivors of domestic violence, with special reference to the MU resource pack "Out of the Shadows."
After the General Meeting Abigail came to Ireland with All-Ireland President Paddy Wallace, where she had an exhausting week meeting members from all the dioceses.
The main event for Connor and Down & Dromore dioceses was held in St John's, and was attended by 250 representatives of branches throughout the two dioceses.
Abigail was interviewed by Rosalind Bloomfield (Connor) and Roberta Rogers (Down & Dromore).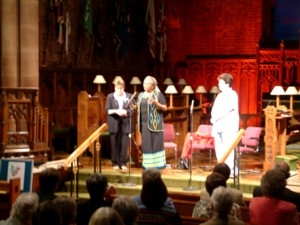 Rosalind Bloomfield Abigail Tukulu Roberta Rogers
Bishop Moore, Ann Neill (Diocesan President Down & Dromore),
Abigail Tukulu, Norma Bell (Diocesan President Connor),
Paddy Wallace (All-Ireland President)